Panel discussion (online) on Suicide Prevention on 4th September (Friday) at 3:30 pm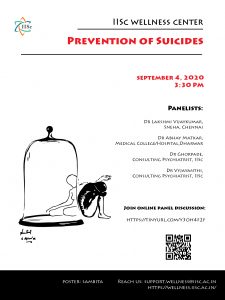 Greetings from the IISc Wellness Centre!
We are continuing our series of panel discussions aimed at understanding and creating awareness on mental health issues.  
This week, on 4th September at 3:30 pm, we are having a panel discussion on Prevention of Suicides. We will have brief presentations on the topic, with an emphasis on higher education, by the following renowned experts in the area:
Dr Lakshmi Vijaykumar, Sneha, Chennai
Dr Abhay Matkar, HOD, SDM Medical College/Hospital, Dharwar
This will be followed by a panel discussion, which will also include consulting psychiatrists from IISc:
Dr Vyjayanthi, Consulting Psychiatrist, IISc
Dr Ghorpade, Consulting Psychiatrist, IISc
Format: The event will have brief presentations by the panellists followed by a discussion on questions by students/members of the IISc community.
best wishes,
IISc Wellness Centre Team