YourDOST – Emotional Wellness Coach for IISc
Creating a Happier Campus Together!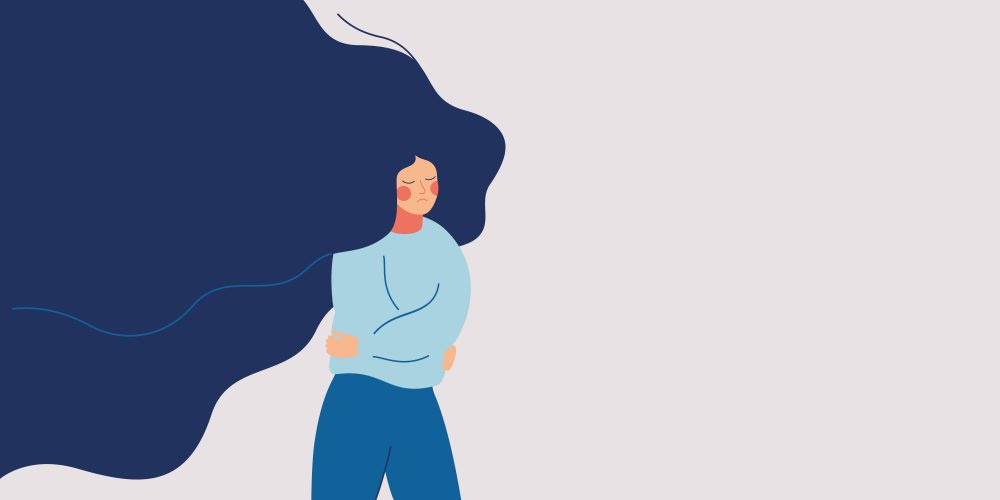 Indian Institute of Science is proud to be associated with YourDOST, one of India's first and the largest online mental health and emotional wellness coaches.

This initiative brings you 24×7 professional counseling services from 1000+ Experts, with complete privacy, confidentiality, and anonymity.

You can discuss various concerns about career, relationships, anxiety, time management, confidence building, or anything that keeps you from becoming a better version of yourself.

Visit www.yourdost.com and use your official email ID (ending with *@iisc.ac.in) to register, and be on your way to seeking professional guidance in no time, for free!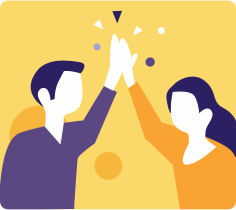 As an emotional wellness coach, YourDOST conducts 2000+ counseling sessions a day. More than 20 Lakh people in India have benefitted from YourDOST.
In addition to availing one-on-one counseling sessions via online chat or voice/video appointments, you can access a pool of self-help resources such as weekly doses of self-awareness, assessment tests, puzzles, etc.
You can also be part of knowledge-intensive events, activities, and a discussion forum.

You can also talk to YourDOST experts on campus and seek confidential, private, and anonymized counseling guidance.

All you've to do is book an appointment with your visiting experts and meet them at the Wellness Center at the desired time. https://bit.ly/F2FatIIScBengaluru
Their details are –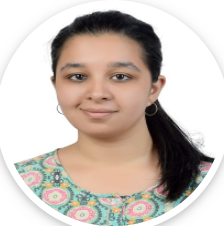 Ms. Shravya Devadhar
Days of visits: Sunday, Monday & Tuesday Time: Wellness Center, 3PM – 6PM
Summary: Shravya is a Clinical psychologist (RCI registered) who has worked and received training from few of the most prestigious mental health institutions of the country. She has extensive experience in clinical diagnosis using a variety of methods including psychometric tests among children and adult population. Having a client-centered approach, Shravya has been working with her clients to deal with a wide range of issues including body image difficulties, relationship difficulties, anxiety, addiction, depression, difficult family relationships, social anxiety and clients with difficult childhood. She has gained professional expertise in various therapeutic approaches including Cognitive Behavioural Therapy (CBT), Compassion-Focused Therapy (CFT) and Motivational Focused Therapy (MFT) etc. Shravya is fluent in English, Hindi and Kannada.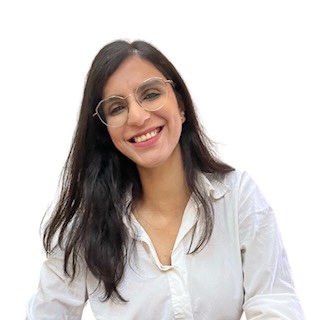 Mehr Chakraborty
Days of the visits: Tuesday, Wednesday & Thursday Time: Wellness Center, 3PM – 6PM

Summary: Mehr is a diligent, motivated clinical psychologist ,eager to break the stigma around mental health. She has completed her MPhil in clinical psychology from Institute of Human Behaviour & Allied Sciences. Mehr has 3+ years of work experience having worked across institutions & organizations such as WYSA ,Central Test & University Of Melbourne to name a few. Additionally, she also has keen interest in research and has presented papers on borderline personality, Substance use in college, Cognitive behavioural therapy etc.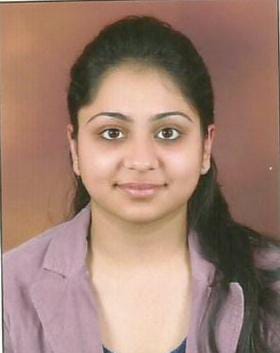 Mihul Narad
Days of the visits: Thursday, Friday & Saturday Time: Wellness Center, 3PM – 6PM
Summary:
Mihul Narad is an RCI recognized Clinical Psychologist and Psychotherapist. She has been in the industry for 4 years. While studying she interned in premier hospitals for counselling, assessments and mental health awareness. Additionally during Covid 19 first wave she supported NGOs remotely in Mumbai andNew Delhi, where she handled distress calls. Through her practice as a counsellor under supervision Mihul has dealt with anxiety, depression, loneliness, unemployment relationship issues, and family discord to name a few. As a psychotherapist, Mihul has had an evolving experience as a practitioner of various therapeutic techniques like mindfulness-based therapies, Schema therapy, Dialectical Behaviour therapy and cognitiveand behavioural therapies/REBT. She balances professionalism with an approachable and genuine demeanour. Her vision is to treat as many suffering individuals as possible and to educate more and more peopleabout mental health.
YourDOST Recognitions
| | |
| --- | --- |
| Presented policy recommendations to the honorable Prime Minister, Mr. Narendra Modi. | Founder recognized among Business World Wellbeing 40 Under 40, 2021. |
| | | |
| --- | --- | --- |
| Winner of the 'Mental Health Brand' in the Gold Category at #IHWAwards2020 | Founders recognized among Forbes India and Forbes Asia 30 under 30, 2017. | Winner of the Digital India Startup award by Times Now and the Government of India for Social Innovation. |
| Winner of Women Entrepreneurs Quest 2016 by Anita Borg Institute, India and Govt. of India | Winner of Red Herring Global Top 100 among 500+ companies in the year 2016 | Awarded by Economic Times as one of the Top 15 people of 2015 impacting millions of lives. |
What Our Students Have to Say
| | | |
| --- | --- | --- |
| "Most wonderful person I've come across. Knows how to deal with situations very well." | "Re-phrasing all the problems into a few simple perfect lines is the best part about. It gives clarity. Empathic, great listening and solution oriented." | "As a start, that was a great session. The expert was better than my expectations and my previous experiences with counselors. I look forward to the future sessions." |
YourDOST Past Events at IISC
| | |
| --- | --- |
| Your-Dost Emotional Wellness | In April 2021, a webinar was conducted online on 'Social Media – A friend or a Foe' by Ms. Puroitree Majumdar. This webinar aimed at educating students about healthy social media and internet usage and equipping them with the skills to overcome their excess usage. |
| In April 2021, a webinar was conducted online on 'CISD [Critical Incident Stress Debriefing]' by Dr. Jini K Gopinath. Grief model was explained to them and they were informed that they are going through the stages of bereavement, Denial, Anger, Bargaining, Depression and Acceptance. | Your-Dost Experts |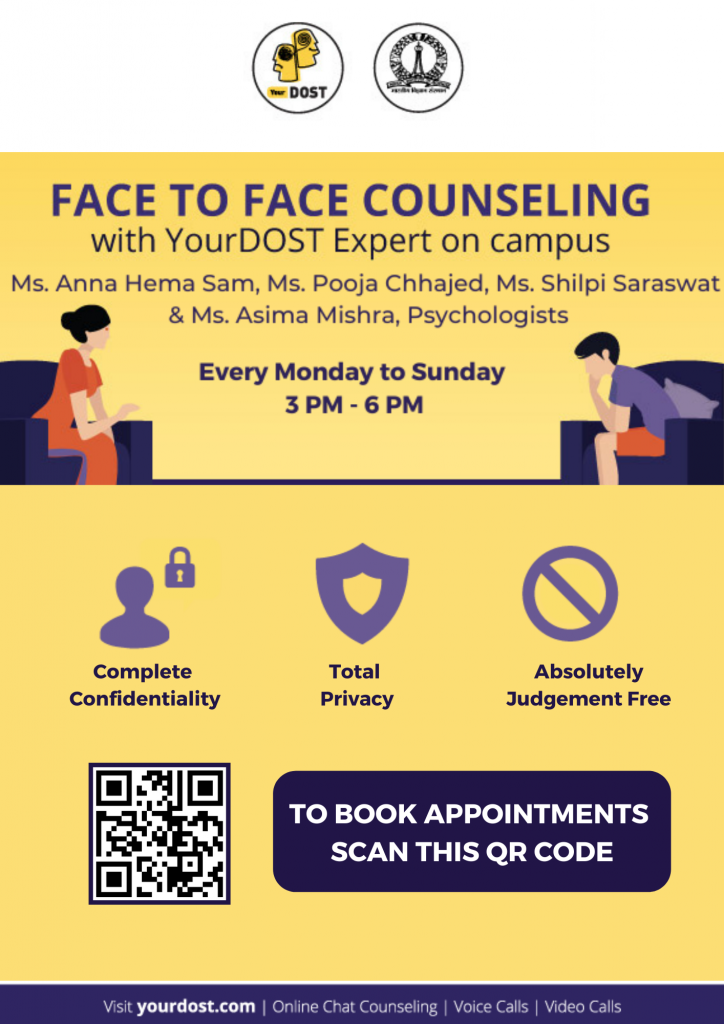 YourDOST Health Solutions Pvt Ltd
CIN :U85100MP2015PTC034410
Contact us- customersupport@yourdost.com Website: www.yourdost.com
Corporate Office: #2739, 1st Floor, 15th Cross, 27th Main Rd, Sector 1, HSR Layout, Bengaluru, Karnataka 560102
Registered Office: 18-A, Chhatrapati Shivaji Colony, Chunabhatti, Kolar Road, Bhopal, Madhya Pradesh – 462016