A panel discussion on Time management on 18th July (Saturday) at 4 pm
Link for the recorded session Click here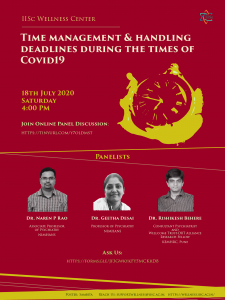 Greetings from the IISc Wellness Centre.
In the midst of another lockdown in the city and continued uncertainties associated with COVID-19 pandemic, are there meaningful ways to manage our academic progress without getting overwhelmed? How do we manage our time and deadlines? How do we manage anxiety and stress?
These questions might be on top of everyone's mind. Globally, experts are unanimous in recognising the pandemic as a major source of mental health issues. Therefore, IISc Wellness Centre is organising a number of events over the coming days.
The first in the series will be a Panel Discussion (online) on Time management. Details are given below: 
Title: Time management and handling deadlines during the times of Covid19
Date: 18th July 2020, Saturday
Time: 4 pm
Panellists:
1) Dr Geetha Desai, Professor of Psychiatry, NIMHANS
2) Dr Naren P Rao, Associate Professor of Psychiatry, NIMHANS
3) Dr Rishikesh Behere, Consultant Psychiatrist and Wellcome-DBT Alliance Fellow, KEMHRC, Pune
Format: The event will have brief presentations by the panellists followed by a discussion on questions by students/members of the IISc community.
IISc Wellness Centre